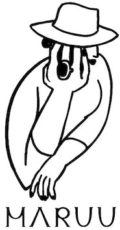 心豊かになる色彩の天然石で、生活に寄り添い、アクセサリーを通して日常に癒しの光りをもたらすことができれば。
シンプルな中にも奥行を持ち、ひとつひとつ丁寧に物作りに取り組み、暮らしの中にゆとりを感じてもらえるよう、そんな想いを込めて、MARUUは誕生しました。
オーストラリア産の希少なオパールを始めとするレアストーンから、デイリー使いの天然石まで、無限の色彩をお届けすることで、アクセサリーを楽しむ皆様に本来の美しさを引き出せる、そんなお手伝いができると幸いです。
We wish to cuddle up to your daily life and bring you ray of healing by creating accessories with the natural stone which color makes you feel enriched.
The design is simple but you can also feel the sense of depth inside. It is made with great care one by one. MARUU was born with the hope that wearer can feel affluence in daily life.
From a rare stone such as Australia origin opal to a natural stone for daily use, we deliver infinite colors of various accessories, wishing to help extract the original beauty of the person who enjoys our items.
Official Web Site
オンラインショップ