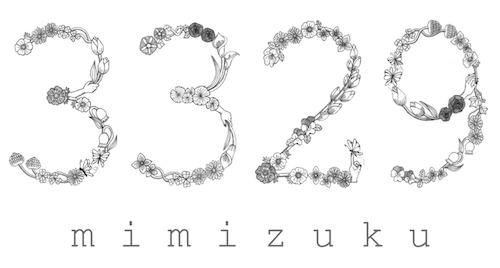 コンセプトは『再生』。​
いつか見た景色、触れた自然。幾重にも重なる記憶の糸を手繰り寄せ、そのイメージをかつて命のあった「革」という素材に表現する。今が捉える過去はいつも新しく、古くならない。流行に左右されることなく、身に付けるたびに新鮮で心に訴えかける、プリミティブなレザーアクセサリーを制作しています。
使用するレザーパーツは、切り出し、成形、染色、全ての工程がデザイナーによるハンドメイド。​一人の人間の記憶から生まれたものが、誰かの大切なものになり、これから時を共有する。それを喜びとして活動しています。
The concept is "rebirth".
Nostalgic scenery and the nature I touched in the past. 3329 -mimizuku represents image of the threads of memories, onto the "leather " which is the material once had a life.
Scenery of the past looking back from the present moment is always new and will not get old. I create primitive leather accessories which designs are not affected by the trend and you can feel fresh and emotionally compelled when you put on.
All the process of making leather parts, from cutout, shape forming, to dyeing are done by the hand work of the designer. The one born from someone's memory becomes precious one for the other person and they will share time in the days ahead. I create jewelries with the pleasure of making such situation.
Official Web Site
Stockist